Video Intercoms
Video door intercom systems
What is the benefit of a color video intercom system? Using this system you will be able to see who is at the other end of the system will exceptional clarity. But is it worth the extra expense?
Let's talk about that expense first. In reality, the difference in cost between a low-cost intercom system with no video at all, a video system (black and white) and a color video system is marginal. The price of screens and cameras have lowered significantly to make the cost of a higher-grade color video intercom system with a high definition display and video signal affordable for just about anyone.
Visitors are much more likely to be impressed by a color system, and as they are not much more expensive, it usually makes sense to go for them if you ever expect visitors to be using your intercom.
You can choose a two-way system that will allow both ends of the conversation to see each other, which can make for a much more personable greeting. Depending on the application, some people find this a bit too obtrusive – they don't want visitors to be able to see them at first, for example. This option can be switched off though, so not to worry.
Even if you are planning on just displaying a video on the entry system to greet the user, it certainly impressed more when they can use a full-color touchpad to enter any details like room numbers of department.
Choosing a high definition color video intercom can allow you to make more use of recording abilities. You may want to keep a track of who has come and gone through your business, particularly if you have sensitive information within. Having a backup system in the form of a record of who has visited your business can be a lifesaver.
Intercoms also have other uses than as entry systems; in manufacturing and on the factory floor a two-way intercom can be very useful. Whereas many business rely on a two-way radio, upping the game and adding a color video stream can make a lot of back-and-fore obsolete, as the person on the other end of the conversation can see exactly what is happening without it needing to be relayed.
Intercoms therefore will continue to play an important part in business security, home safety, and across the world in businesses who need that ability to contact each other across a workroom floor.
Many businesses are looking for the best way to choose a color video intercom system for their business or for a building that you own. This type of intercom system is a very secure way to protect and enhance your business.
The great thing about these kinds of intercom systems is that they can really make a building a lot more secure and safe. Some buildings even have intercom systems with buzzers that allow the person who is on the intercom to be let in or kept out. The video intercom system really allows the person inside the building to decide whether the person who is outside is safe to be allowed inside the building. This is done with a camera that goes outside of the building. The person on the other and of the intercom can see, in color, the other person and use that to decide whether to let them in or not. The intercom also allows the person on the inside to talk to the other person, so that they may know what the other person's business is especially if they are someone that is unknown to the person.
There are many types of color video intercom system out there today, so it can be difficult to choose the right video intercom system for your needs. You will need to decide, within your budget, which type of video intercom system will suit your needs. Some models of these video intercom systems automatically lock the system if there is a problem.
There are some video intercom systems that are wireless that use a special frequency to transmit the information. Some of them have a telephone built in to the system with a display right on it. This will allow you to use the system wherever you happen to be when someone comes to your home of business. This would be helpful to have for someone that has a hard time with mobility, such as the elderly or the disabled.
There are some versions of video intercom systems that allow the user to move the camera to see the surroundings. Some systems are resistant to bad weather and some of them have the option to call for help if there is trouble.
All of these are options that you can consider when you are looking for a color video intercom system for your home or business. Some may be necessary to you and some may not, but now you are more aware of the options.
A video doorbell intercom, whether wired or wireless, offers additional security as it allows you to view and communicate with the visitor before answering the door. Depending on the type of system you have bought or the amount you are willing to spend, these can be of two types. First are those, which get active as soon as the visitor pushes the doorbell. Others have a motion sensor that triggers the camera as soon as any motion is detected. The second way provides you knowledge about the person approaching the door even before the bell rings.
Common Features
Some of the common features when it comes to Video Doorbell Intercoms include
– Infrared low light mode: It allows the user to view clear images even in dull lights or during the night
– Tamper detection alarm: Alarm notifies the owner that someone is trying to deactivate the intercom system
– Motion detection: The bell rings and camera activates as soon as the motion is detected on the property
– Flashing light
– A connection, wired or unwired with the TV
Depending on the features you are looking for and the amount that you can afford to spend, there are a number of options available in the market for you to chose from.
There are systems that offer portable monitors as well. This way you would get to know about the visit of a person even while you are in the garage or garden. You do not need to visit a place where there is a fixed monitor. Instead, you can view the person and communicate with him right from the place where you are standing. The signal strength and clarity plays a vital part in this and the same must be kept in mind during installation and purchase.
The cameras installed at the door automatically adjust to the light and provides you clear images irrespective of the light intensity. The system also allows you to open and close the door from way inside the home. Setting up of the camera is also easy and you can adjust the angle as per you need.
The video doorbell camera safeguards the house against unwanted visitors and offers peace of mind and convenience at an affordable cost. In the end, it is the security, that matter the most and doorbell intercoms with video cameras provide the perfect solution.
Door buzzer entry systems have become increasingly popular. They are especially useful in a business setting. Many companies that deal in large volumes of cash use these systems. The system is simple, but allows an additional layer of security. In most cases, there is a camera installed that is focused on the front door of the establishment, as well an intercom. The person who wishes to gain entry will press a button. Inside of the establishment, the owner can view the visitor on a screen. They can also use the intercom system to speak to them and determine why they are seeking entry. The business owner can simply press a button and allow entry to the person. Once the button is pressed it will release the lock mechanism and the individual will be able to gain entry.
The cost of such a system will vary based upon different factors. Among these are the layout of the space and placement of the cameras, intercom, and interior buzzer. You can purchase this type of system online, but will generally need to install it yourself.
If you are considering door buzzer entry systems, you will want to make sure that you look into all of the options which are available to you. There are several systems that can be purchased for a very reasonable price. The more extensive and involved the system is, the more you will pay for it. For example there are several versions of the system that do not include a camera. They simply have an intercom that allows you to speak with the person on the other end and then allow them entrance.
Many of these systems have a range of up to two miles. This means that you could, in theory, be away from your property or business and still allow access to it from a remote location. The best systems have not only an extensive range, but they are weather proof and vandal proof as well. This means that the system will last virtually forever and require very little maintenance, keeping the cost for the system low.
The best way to choose a system that is right for your needs is to work with a product expert. They will be able to guide you to the system that will meet all of your needs. In addition, they will be able to answer any questions that you may have about the operation of the system.
When shopping for a door intercom system the first question to ask is whether or not you can run wires between the door and the inside area where you want a monitor intercom. If you need multiple indoor intercoms, can you also run wires between those areas (the wires don't all go back to the door, but run between inside stations)? If you are looking at a wired system, don't forget to factor in the cost of the installation when calculating the total cost of the system. The cost of installing the wire can be even more than the system itself. If you decide on a wireless door intercom, installation is usually fairly simple and low cost.
If you choose a wireless door intercom then you need to be concerned about factors like the distance between the inside and outside stations and anything that may interfere with the signal. If a building is metal or concrete, the signal may not pass through the walls. If there are other electrical or wireless devices they could also interfere with the signal. Some of the commercial-type intercoms have greater signal strength and can use an external antenna that can help solve some of these issues.
Another issue to be aware of is privacy. If you need the calls between the front door intercom and the inside unit to be private, then a wired system is best. However,  the WireFree Wireless Intercom is a digital system that has built-in digital security that keeps others from hearing the conversation.
Another question to ask is whether or not you want to remotely unlock the door or whether you plan to walk to the door and let people in. The WireFree system does not have that capability, but the most other intercoms do as long as you have some sort of electric door strike installed.
If the person who will be answering the door is mobile, you'll need a wireless system so that person can carry a handheld radio.
A door intercom can also have video capability so you can see who is at the door as well as talk to them.
IntercomsOnline.com has a variety of door intercoms your you to choose from.
Advances in wireless technology, combined with the increasing demand for reliable communication and property security systems, have led to a significant rise in the variety of wireless access control devices that are now available on the market.  These devices dramatically enhance the convenience and safety of a home or business by giving the people who live or work there the capacity to remotely control the entrances to the property and to communicate easily with people over long distances.  Investing in one of these modern, exciting and innovative products makes your property a much more enjoyable and secure place to be.
There are many advantages of installing a wireless access control system as a method of communication within a property.
They are extremely cheap and easy to install and maintain as they do not rely upon complicated and expensive underground wiring.
They are very cheap to run as there are no ongoing operating costs as there would be access control systems that use regular telephone lines.  The only costs involved after purchasing the system are occasionally changing the batteries (unless you AC or solar power them).
They are very reliable and not susceptible to outages that seem to affect the public telephone grid or to wire cuts caused by digging, rodents, or other causes.
Wireless access control systems are extremely easy to operate as they generally only involve the push of a button to facilitate direct communication with other connected devices.
There are also numerous advantages of installing a wireless access control system as a property security measure.  The wireless system means that you don't need to alter the property in any way by digging trenches for complicated wiring.  It also means that there is no need to maintain and repair wire connections, which have a tendency to become worn and damaged over time.  Fitting property entrances with a video or voice communication system means that any visitors to the property can be easily identified prior to being granted access.  And finally, the remote control gate opening function adds an additional level of convenience by eliminating the need to manually open the entrance for guests.
There is a wide variety of wireless access control systems that can be installed in homes or businesses and technological advances have made these systems much more affordable in recent years.  Some of the most popular wireless access control systems that are currently available include the following:
The Outdoor Intercom Callbox
This is a heavy duty, weather resistant wireless system that provides easy communication between a callbox that is situated at a specific fixed location, and other handheld intercom devices.  It allows for long range communication between the devices over a distance of up to one-mile.  This distance can be increased with the addition of an external antenna.  These systems have become very popular for businesses where reliable and easy to operate two-way communication must be available at all times.
The Intercom Callbox with Gate Relay
This system has a lot of the same features as the Outdoor Intercom Callbox outlined above, with the addition of the "gate relay" element.  This basically means that the callbox, or any of the handheld devices that are connected to it, can be used to remotely open a gate for a visitor.  A switch output is built into the callbox that enables it to perform a range of functions where an on/off switch is used.  These situations include opening or closing a gate or magnetic door, turning on a light or sounding an alarm.
Another useful feature of these systems is the "listen in" function.  When the "listen in" button is pressed a transmitter in the callbox is activated which enables the user to listen for any sounds that are coming from the area surrounding the callbox for a period of 30 seconds.  In this way they are able to discretely monitor activity in the vicinity of the callbox location.
The Door Access System
This is quite a simple door answering and opening system that is very popular for both commercial and residential properties.  These systems generally comprise of two main components.  The first is known as the "door station" and this is fitted outside the entrance.  The second component is called the "master station" and this is fitted inside the property.  Depending upon the size and general layout of the property it may be more convenient or practical to have more than one master station.
When a visitor arrives at the door they press a button on the door station and this triggers a short alarm at the master station(s).  Someone inside the property then answers this alarm and the two parties are able to communicate with one another through the wireless device.  An optional additional feature of these systems is a door release system which enables the door to be opened remotely by the person operating the master station.
The Digital Video Intercom System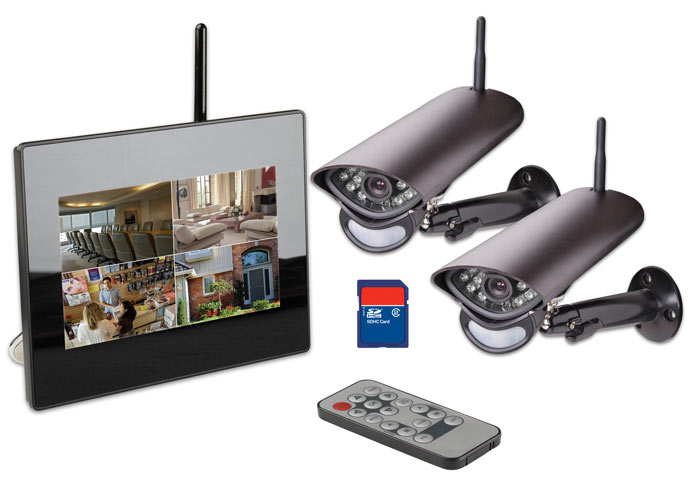 These innovative systems use digital technology to provide the best possible monitoring of property entrances.  These systems also typically consist of two components.  The first is a wide angle lens (generally with a 170 degree view) that is fitted above the door or gate at the entrance to the property.  This unit is weather and vandal resistant.  The second component is fitted inside the property and is made up of a screen and a control panel.  This high resolution screen displays the image from the camera and the controls enable the operator to perform a wide range of functions.
The outdoor camera is triggered by a sensor alert which also activates a sound alarm within the property.  The video system uses sophisticated digital technology to allow the operator to alter the camera angle and zoom in on the subjects.  Based on the images, the operator can then chose whether to communicate with the visitor via the speaker system or to open the gate remotely and allow them to enter the property.  Both of these actions can be realized by the simple push of a button.  A significant new development in this line of products is its ability to operate in a variety of light conditions and to record and store the images for later use.
The wireless access control systems outlined above significantly improve modern homes and businesses by providing greater communication, security and remote control over the property.  Technological advances in the field of property security and wireless communication have led to an incredible new range of affordable, exciting and innovative products which will increase the value of the property, while also enhancing its security and convenience.
When someone needs a video intercom at their doors, the Expandable Recording Color Video Intercom System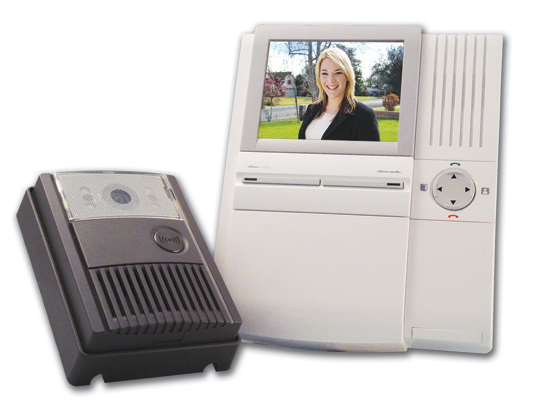 at IntercomsOnline.com is the unit we like to recommend. Not only does this unit send live audio and video to the indoor 4-inch, full-color monitor when someone rings the doorbell, it also records full motion video and audio on to a Secure Digital (SD) card that you can place in your computer to copy and view it. If someone breaks in to your home or business, most likely they'll ring the doorbell to make sure no one is there (and pretend they're selling something if you are). Since the Expandable will make record this event you'll have a nice video to show the police.
Not only this system record, but as its name says it is expandable to a total of 2 cameras and 4 monitors. So you can handle both your front and back doors, plus put monitors throughout your house or business.
A built-in infrared system for night vision provides supplemental lighting to enhance night viewing. The door phone camera operates in color during daylight and black & white in low lighting conditions.
The 2-wire installation is easy and you can even add an external electric door lock to open the door from the indoor monitor and the door status indicator tells you when the lock is open!
One of the most popular video intercoms on the market not only lets you see who is at the door, it also records a short video clip to an internal memory card.  You can use the Expandable Recording Color Video Intercom System to safely identify visitors even before answering. When someone rings the doorbell, the system sends live audio and video to the indoor 4-inch, full-color monitor. You simply press a button and you can then speak hands free.
This intercom is also the first video intercom in the industry to offer a full motion Video and Audio clip recording on a removable Secure Digital card. Video clips are viewed and archived on any PC or MAC. Chances are if someone breaks in to your home or business, they'll ring the doorbell to make sure no one is there (and pretend they're selling something if you are). You'll have a nice video to show the police!
This system even has a night vision mode to accommodate any lighting environment. A built-in infrared system provides supplemental lighting to enhance night viewing. The door phone camera operates in color during daylight and black & white in low lighting conditions.
For the visitor, this unit in no more difficult to use than a normal doorbell (and the button is still lighted). The unit is not only convenient to use but also designed to provide an additional measure of security. For business/commercial applications where access control is a concern, the system safeguards the entrance while remaining user-friendly to guests.
You can even add an external electric door lock to open the door from the indoor monitor and the door status indicator tells you when the lock is open!
The attractive design of the hands-free intercom system is not only functional, but is also a stylish addition to any décor. Installation is a quick and easy.
We quite often get requests for a wireless video intercom system. People want to be able to place a camera/intercom at their front door or gate and then have a monitor inside the house or business.
At www.IntercomsOnline.com we do carry one wireless video solution. The Portable Handheld Wireless Video Intercom enables you to place an outdoor camera at the front door or gate so you can see who is there and talk to them as well.
This system also lets you capture video snapshots so you can have a record of who was at your door.
If you can run a wire, then we have several other wired video intercoms at  www.IntercomsOnline.com.
There are lots of good reasons to get a video intercom. Security is one of them. Installing a video intercom system at your front door improves your home or business security. A video intercom enables you to not only talk to someone at your front door, but also to see them as well. That gives you more information to make the decision whether you want to let someone in or not without even getting near the door.
A video intercom consists of at least two components, a weatherproof camera and door bell button unit that goes at the front door, and a monitor unit that enables you to see who is at the camera. You can buy monitors that provide either a black and white or color picture.
When someone presses the call button on the video door bell it activates its camera and alerts the indoor monitor. You then talk to them while you view their image. You can even press an open lock button if you have an optional electric door lock installed.
Watch the video below for more information: