There are many jobs where you just can't hold on to a two way radio so you need a hands free way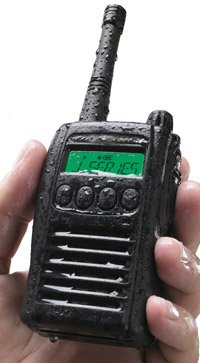 of using the two way radio. While there is no truly hands free two way radio, you can get fairly close.
To use a radio handsfree you need two things. First you need a two way radio with VOX mode. I don't know where the term VOX came from but it essentially means Voice Operated Control. It enables someone to transmit and receive just by speaking into the radio or a microphone attached to the radio.
The second thing you need to be truly handsfree is a headset with a microphone and earpiece. Since the two way radio will likely be clipped to your belt, it would be difficult to get it to pick up your voice to activate that transmit if the radio is located near your waist. If you are laying down and have the radio near your head then you could likely get away without this headset.
The really good radios have a sensitivity setting so you can adjust the level of sound needed to trigger voice transmission. You can set them to pick up very quiet voices or loud voices. The thing to consider about setting the sensitivity to high for quite voices is that other noises will also cause the radio to transmit even when you aren't talking.
A good resource on choosing the right two way radio can be found by going here: How to Choose a Two Way Radio. Two way radios and unique radios they communicate with can be found at IntercomsOnline