A new book now available offers two way radio reviews to help you decide which two way radio is right for you. The book is called, Two-Way Radio Success: How to Choose Two-Way Radios, Commercial Intercoms, and Other Wireless Communication Devices for Your Business . It reviews all aspects of two way radios so you can make an informed decision on the right radio for you.
Here is what you will find in this free book:
Types of Two-Way Radios
Cell Phones versus Two-Way Radios
Understanding Radio Frequencies
UHF Radio
VHF Radio
Two-Way Radio Power
Two-Way Radio Range
Antennas
Channel Usage
FCC Licensing
Feature Highlights
VOX
Military Specification Standards
Accessories
Audio Accessories
Cases, Holsters, and Belt Clips
Batteries
Repeaters
Drop-In Charger
Multi-Charging Units
Selectable Power
Weather Alert Radio
Two-way Radio Products and Applications
Commercial Intercom Systems
900 MegaHertz Wireless Intercom
MURS Wireless Intercom
Business Band UHF and VHF Two-Way Radios
Wireless Call Box
Emergency Alert Notification Systems
Long Range Wireless Motion Detector with Two-Way Voice
Wireless Outdoor Intercom
Golf Course Wireless Ordering System
Wireless PA System
Wireless Customer Service Call Button
Wireless Elevator Call Intercom
Event Coordinator Communication System
School Parking Lot Safety Improved with Emergency Call Box
Construction Jobsite Two-Way Radio
Real Estate Agents Use Wireless Intercom for Spec Homes
Long-Range Wireless Driveway Alarm For Long Driveways (Security App.)
Wireless PA System For Campgrounds
Remote Gate Opening
Where to Buy Two-Way Radios
This book is about using two-way radios and other wireless devices for improving communication in your business. The results of this improved communication will vary, but depending on your application, they can include increased safety, improved productivity, better customer or employee satisfaction, increased profits, or other benefits.
There is no better two way radio review available than Two Way Radio Success. You can find this book by clicking here.
Two way radio communication has been around since World War II, but it still has lots of applications for improving business communication.  Two way radios and other wireless devices can be used for improving communication in your business. The results of this improved communication will vary, but depending on your application, they can include increased safety, improved productivity, better customer or employee satisfaction, increased profits, or other benefits.
With the increased penetration of cell phones, and cell phones with push to talk capability, the use of two-way radios has slowly declined over the past several years. However, since the 9/11 terrorist attacks, the shootings at high-schools and universities, and the major natural disasters such as hurricane Katrina in New Orleans, people have discovered that you can't always depend on the cell phone network. The cell phone network may go down, but the airwaves will not.
There are other non-emergency situations where two-way radios just work better than cell phones too. The free book titled Two-Way Radio Success: How to Choose Two-Way Radios, Commercial Intercoms, and Other Wireless Communication Devices for Your Business book points those out and it will show you applications for these radios that you've never thought of. It will show you other products that work with two-way products that you likely didn't know existed.
Two way radio communication has lots of interesting uses for your business that you may not have thought of. Read the book above and visit www.IntercomsOnline.com to improve your communication.
In addition to increasing productivity through better communication, two way radios and devices that use two way radio technology to increase workplace safety.
Many businesses rely on cell phones for emergency communication. In most cases this works well, but in cases of natural disasters or even a major snowstorm, the cell phone network can go down or get overloaded with calls. That can leave you without communication on your workplace property.
You can also get wireless public address (PA) speakers that work with your two way radios. These wireless PA systems receive transmissions from your two way radios at up to two miles away. You can use these to quickly get emergency messages out, or to just keep your employees informed.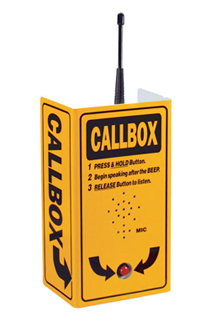 Another two way radio safety device is the wireless call box. These call boxes are essentially a two way radio in a wall or post-mounted box. A user simply presses a button to make a call. You can place these in areas where an emergency could happen so someone can quickly report it. These wireless call boxes can also be placed at entry doors or on loading docks so visitors can contact you for entrance. You can also place these wireless call boxes in your employee parking lot to increase safety there. When your workers need assistance they are glad to know that a call box is nearby.
Keeping your employees safe in any way you can should be a top priority of yours. Using two way radio devices is one way to do that. With these devices you can get the added benefit of increased productivity. Look around your business and I'm sure you'll find a way you can integrate two-way radios. More Info is available at IntercomsOnline.
When you need to communicate with people who are at an outdoor location and you can't run wires to that location, an outdoor wireless intercom is the solution. These outside wireless intercoms communicate to an inside station or portable handheld two way radio via radio waves.
There are several varieties of these outdoor wireless intercoms available. You can get heavy duty, tamper resistant devices that communicate over long range, or lighter duty devices that communicate a few hundred feet. Some devices communicate using a proprietary method that only allows devices from the same manufacturer to talk to each other, while others are more open and allow mixing devices from different manufacturers. If you have existing two way radios you use, you can also get outdoor wireless intercoms that talk to them.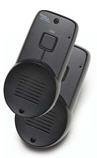 One system available is the WireFree Outdoor 900MHz Intercom. This is a proprietary system that will only communicate with other devices in the WireFree product line. It has a range of up to 1000 feet, but with obstructions in between is more likely to be a few hundred feet. These outdoor intercoms communicate with other WireFree outdoor intercoms or with the WireFree Portable 900MHz Wireless Intercom for inside use. These outdoor intercoms work in walkie talkie fashion where a button push is required to talk.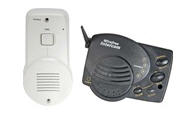 If your outdoor wireless intercom application is taking calls from visitors at your front door or security gate, then a wireless doorbell intercom is what you need. The WireFree Wireless 900MHz Doorbell and Intercom works with the entire WireFree product line.  When visitors arrive at the door or gate they press the button on the outdoor wireless intercom and it sounds a doorbell tone on the inside and outside units. The person on the inside presses a button to talk while the person outside can talk hands free. This unit has the same range of a few hundred feet as the other WireFree products.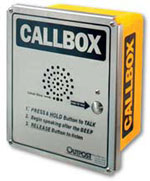 If you need an outdoor wireless intercom that communicates over long distances, then a wireless call box like the MURS Callbox XT Outdoor Intercom is needed. These devices use UHF and VHF frequencies to communicate over long range. Some of the wireless frequencies require an FCC License, but the MURS Radio frequencies are unlicensed and very lightly used. These callboxes communicate with two way radios or base station intercoms.
If your application requires unlocking a gate or door from a remote location, then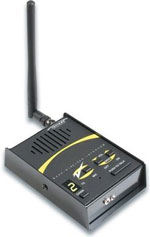 the MURS Callbox XT Outdoor Intercom with Gate Relay is what you need. This call box has a relay that can be controlled by pressing a button on a wireless intercom like the MURS Commercial Intercom or any two way radio with the 2-tone encode feature.
These outdoor wireless call boxes are also built for more commercial or industrial environments. The XT version of the call box is also vandal-resistant so it is good for use in public locations.
Choosing the right wireless outdoor intercom for you depends on your application and your budget, but you can usually find one that will work for you.