IntercomsOnline.com has released a new book titled: Two-Way Radio Success: How to Choose Two-Way Radios, Commercial Intercoms, and Other Wireless Communication Devices for Your Business .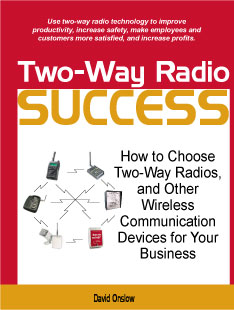 This book is about using two-way radios and other wireless devices for improving communication in your business. The results of this improved communication will vary, but depending on your application, they can include increased safety, improved productivity, better customer or employee satisfaction, increased profits, or other benefits.
With the increased penetration of cell phones, and cell phones with push to talk capability, the use of two-way radios has slowly declined over the past several years. However, since the 9/11 terrorist attacks, the shootings at high-schools and universities, and the major natural disasters such as hurricane Katrina in New Orleans, people have discovered that you can't always depend on the cell phone network. The cell phone network may go down, but the airwaves will not.
There are other non-emergency situations where two-way radios just work better than cell phones too. This book will point those out and it will show you applications for these radios that you've never thought of. We will show you other products that work with two-way products that you likely didn't know existed.
You can download this free two-way radio book at the following address.  When the file opens, use the Save As command of your browser to save the PDF file to your computer.
http://www.intercomsonline.com/v/vspfiles/downloadables/Free-Two-Way-Radio-Book.pdf
If you've ever walked bewildered around a store searching for something, you know how frustrating it can be when you can't find store personnel to ask for help. It never seems like there's someone there when you need them.
How nice it would be to press a button, sort of like the "Easy" button you see in Staples office products commercials, and someone comes to your assistance. Well, with the MURS Indoor Customer Service Callbox customers can do exactly that.
The MURS Customer Service Callbox provides a fast, and easy wireless method for customers to summon a sales associate to a specific department or store location. When a customer presses the button on the Callbox, it transmits user-recordable voice messages to two-way radios, wireless intercoms, or a wireless PA system. The Callbox enhances customer service and promotes productivity of sales associates, which increases store sales.
This Callbox solves one of the most costly problems retail store owners have. That is the loss of customers who gets frustrated when they can't find store personnel to ask questions. Frustrated customers generally leave without buying.
A recent National Retail Federation survey found "…in the previous six (6) months 62% of [all] respondents indicated…walking out of a store without making a planned purchase." Why? "…because they could not find a sales clerk to help." The MURS Customer Callbox Service solves this costly problem.
To further enhance staff efficiency, when an employee arrives to help the customer, a hidden reset button is pushed on the Callbox to activate an "All Clear" voice message to other personnel – permitting them to assist other customers, or tend to other duties.
The Callbox is completely wireless, and battery powered, which makes it easy to install virtually anywhere without costly remodeling.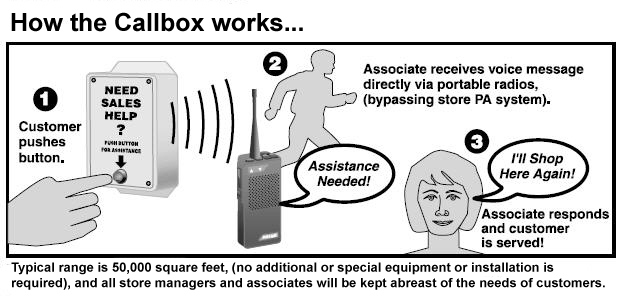 There is no need for any external power, special wiring, expensive remodeling, airtime charges, or dedicated phone lines. Plus there's no disruption to operations since the Callbox is completely wireless and battery operated. It can be installed anywhere in literally minutes. What's more it can be relocated as needed in a flash.
Use the MURS Indoor Customer Service Callbox…
Cutting stations
Locked cabinet displays
Unstaffed and part-time counters or registers
Question-intensive merchandise areas
Outdoor departments…Lumber, Nursery, Patio
Hard to see areas of the store
Heavy or high merchandise areas
This Callbox is field programmable to work with almost any VHF band two-way radio. Also, if you have UHF two-way radios in your business, call us and we can get you a model that works with the UHF and even the GMRS band of frequencies. The Callbox is compatible with virtually any other brand of two-way radio, including Motorola and Kenwood.
With the Callbox, you never have to lose another customer again. Call 888-298-9489 and ask for a product expert for more info.
Golf courses who want to increase revenues from their clubhouse restaurant are using a wireless ordering system to help them out. They simply place the MURS Callbox XT Outdoor Intercom on their 9th tee along with their menu and golfers can then call in their orders.
In the clubhouse, employees answer calls with the MURS Commercial Intercom base station, or the MURS 110 Commercial Handheld Two-Way Radio. We recommend you use both devices because employees will not always be near the base station and you don't want to miss calls from anyone. If you are using existing two-way radios on the golf course, it is recommended you do not use those for this system since you don't want to confuse normal golf course business with the restaurant business.
Since the system is totally wireless, there is no expensive trenching and installation. This system uses the MURS unlicensed frequency so no FCC license is required.
Not only does the wireless ordering system increase sales, but it also speeds up play on the last nine holes since golfers want to get to their food. Everyone wins with this system. The golfers are happy because they don't have to wait for their food, and you're happy because your profits are increased. Contact IntercomsOnline.com for expert product assistance.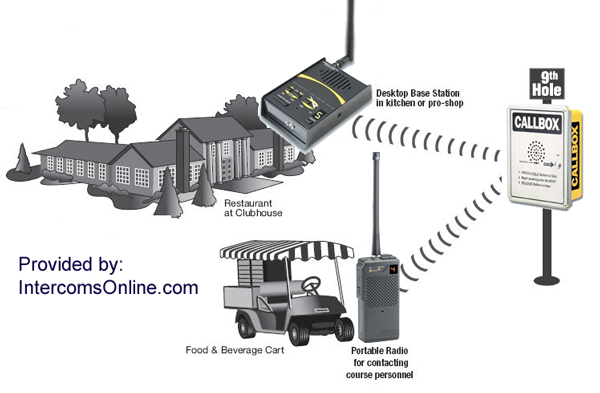 The quicker security personnel on a college campus can be notified of a crime in progress or of some other dangerous situation, the faster they can get the necessary help. Minutes can make a huge difference.
Most students and faculty carry cell phones so they can call in an emergency, but the problem with this is that they have to know what number to call and it can take 30 seconds or more for them to dial the call and have the call connect to someone.
Installing wireless callbox systems in areas around the campus lets students and faculty quickly request a late-night escort or notify security personnel of a crime in progress so they can call authorities.
With a wireless callbox a student or faculty member simply presses a button and starts talking. In emergency situations this speed could be critical.
These wireless callboxes are easily integrated with existing campus two-way radios and there is no big installation cost.
These callboxes can also be used in conjunction with a wireless PA system to campus security personnel can instantly notify students of a danger.
There are times when you want to know when someone is approaching the end of your driveway or some other access point. That's where a motion sensor device with two-way communication would be helpful.

Our Callboxes with Gate Relay have the ability to send a warning tone when a change in a Sensor Input is detected. The Sensor Input will respond to an OPEN or CLOSED switch. So you could add a motion detector device that triggers this sensor input, which would tell you that someone is near the Callbox. Since the Callbox does not provide power for the motion sensor you would need to add your own power supply (typically ~+12vDC). You can use any type of security system motion detector as long as it provides relay contact closure or opening.
Now for the audio monitoring part. You'll need a two-way radio or base-station intercom that has the 2-tone encode feature. This allows you to send a signal to the Callbox to turn on its microphone/speaker so you can "Listen In" to what's happening around the Callbox for a predetermined time. The microphone will be activated and you will not be able to transmit to the unit during this time (5-30 seconds). After that you can transmit your voice to the Callbox if you want to speak to whoever set off your motion detector.
You can also send a signal to the Callbox to activate a switch output, which is a simple 1-Amp relay contact closure that can be used to OPEN and CLOSE a gate, turn on a video camera, switch on a light, sound an alarm or any other application where remote control of an ON/OFF switch is required. The Callbox can be programmed to alternately OPEN and CLOSE the switch using a single 2-tone code, or can be programmed for separate OPEN and CLOSE 2-tone codes.
To see the Callboxes visit this link and look for Callboxes with Gate Relay.
In many cases people are using cell phones in place of two-way radios. While in applications where calls are infrequent, this may be an acceptable solution. However, there are still advantages of using a two-way radio. Here are several:
When you want to call someone on a cell phone at a minimum you have to press a speed dial button and wait for the connection. Between the dialing and the time delay of the person on the other end answering, thirty seconds can go by (if they answer at all).With a two-way radio you simply press a button and start talking. In emergency situations this speed could be critical.
If you want to broadcast a message to a group, you can't do that with a cell phone. You would have to call everyone individually. When you start getting over three people in a group, the time it takes becomes very significant, not only in the time it takes to dial and connect with people, but also in the idle chatter that goes along with phone calls. In an emergency, a cell phone would waste critical time.
Two-way radios can connect with accessory products that cell phones can't. You can set up wireless public address systems that can receive broadcasts from two-way radios. So no matter where you are you can make an announcement. You can also set up customer assist call boxes throughout your store that customers can use to contact you wirelessly. There are wireless outdoor call boxes that can communicate with two-way radios so you can put these devices wherever emergency assistance may occur.
You can get two-way radios that pick up weather alerts from NOAA weather radio so you'll be instantly notified when bad weather is approaching.
The Emergency Call or "man down" feature enable the radio user to immediately notify all other radios on the same channel. For example, if the radio user should become injured, trapped or is in danger, a simple push of a button will call everyone and the microphone on the radio is automatically activated for a brief period so the user can call out a message. The user may not be able to even dial a phone number on a cell phone.
Two-way radios continue working in natural disasters or even snowstorms. Even if cell phones do work, the cell phone towers are overloaded with everyone trying to make calls so your call may not go through.
Some two-way radios are built to military standards, which means they will work in wet environments or even after they are dropped on concrete. Most cell phones are delicate devices.
There may be places at your business where cell phones don't work. Two-way radios can reach all areas of your business.
There is no monthly contract with two-way radios. You never have to worry about exceeding your allotted minutes with a two-way radio like you do with a cell phone.
For more information, go to www.intercomsonline.com,
As the overall population in the United States ages, more than 50 million people are now finding themselves providing care for a family member. Depending on the statistics you read, 25-75% of these unpaid "informal" caregivers have those they care for living with them in the same household. The most common informal caregiving relationship is that of an adult child assisting an elderly parent.This scenario poses some safety issues that can be solved with a wireless intercom system.
The following article from the Oakland Tribune gives a perfect example of why caregivers may want to use a wireless intercom system.
Seniors Safer With Intercoms
Oakland Tribune, May 1, 2005
By Nancy Grandfield, San Carlos, CA
I had the joyful experience of having my 90-year-old father live with me for 2 1/2 years before he died. We did all of the things you suggested in your fine article ("Real Life Rooms," April 23), and had only one incident, a sad one, that I want to share with you as an additional suggestion for your readers.
He lived in an "apartment" that is really a converted basement of our house. Because he couldn't climb stairs for meals, I ministered to him day and night, going up and down the stairs myself. Early one morning I decided to have a cup of coffee before I went down to check on him.
When I finally got to his room I found him on the floor, wedged between the twin beds, soaked with water that had spilled on him from the carafe next to his bed when he fell. He had gotten up to turn on the thermostat, fell, and had been there three hours.
My recommendation is that every caregiver should have an intercom system installed in the bedroom, the line kept open so that one could hear every noise from the elder's bedroom. If I had that by my own bedside, I would have heard his plaintive calls the moment he fell, and responded immediately. It still grieves my heart to think of him lying there on the floor, weakly calling my name.
The WireFree Wireless Portable Intercom from IntercomsOnline.com has a Monitor feature that caregivers can use to listen to their elderly parent without the parent having to press any buttons. These long-life, battery-powered wireless intercoms can be moved around anywhere within a range of up to 1000 feet. You can find the WireFree Wireless Intercom at www.IntercomsOnline.com.
A helmet intercom can be used for any motor sport that requires wearing a helmet. They are typically used for motorcycle intercoms. Whatever you use a helmet intercom for, they turn a solitary experience into a shared experience.
You can get cheap helmet intercoms or you can get expensive ones. The difference lies in the features you get. If you spend under $100 you won't likely get noise reduction, which can be an important feature. The faster you ride, the noisier it gets so noise reduction is good to have.
Another key feature is the ability to communicate bike-to-bike. Obviously some sort of wireless technology has to be used to do that. You can get intercoms that communicate using small two-way radios that you can buy almost anywhere. The downside of these is there is lots of traffic on these radios in heavily populated areas. If you are riding with a group, then these let you have multiple people talking together.
Another technology you can use is BlueTooth. The positive part about it is that you can talk without interference, but the range is significantly less. That may not be a problem if you are riding closely together with only two people, since that is all they can be used for.
If you want to find out about all the types of helmet intercoms available, click on this link: Motorcycle Intercoms – How To Choose The Best Motorcycle Intercom For You

A wireless exterior intercom faces some difficult challenges. Most obvious is the weather. Not only is there moisture to worry about, but also extreme heat and cold. You need a wireless intercom that can withstand exposure to the elements.
Another factor is the range you need to cover. How far apart are the intercoms going to be? But it's more than just distance. Building construction can greatly reduce the distance a wireless intercom will communicate. A wood-framed building with siding will reduce the range less than a concrete or brick building.
Depending on where you put the wireless exterior intercom you may also have to worry about vandalism. You need to ask yourself whether someone will attempt to steal or destroy the unit. If so, then you need a unit built to resist vandalism.
At IntercomsOnline.com we have several wireless exterior intercom systems that can handle being used outdoors.
Light-duty, short-range intercom: WireFree Outdoor 900MHz Intercom
Light-duty, short-range hands free doorbell: WireFree Wireless 900MHz Doorbell and Intercom
Light-duty, long-range intercom/callbox: MURS Basic Commercial Callbox
Heavy-duty, long-range, vandal-proof intercom/callbox: MURS Callbox XT Outdoor Intercom
Heavy-duty, long-range, vandal-proof intercom/callbox with gate opener: MURS Callbox XT Outdoor Intercom with Gate Relay
Call IntercomsOnline.com and we will help you choose a system.
The only way bike to bike intercom systems can communicate is via a wireless signal. There are four types of radio technologies used in the U.S. for motorcycle intercoms. They are GMRS, FRS, FM, and Bluetooth.
There are benefits and disadvantages of all of these systems and the best one for you really depends on how and where you drive. If you drive mainly in congested areas you would likely want to pick Bluetooth. If you need to communicate over long distances, then GRMS would be best.
You can read a detailed article about choosing a bike to bike intercom by clicking here: Motorcycle Intercoms – How To Choose The Best Motorcycle Intercom For You